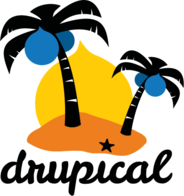 Our new webservice, Drupical, goes beta! We are proud to be give something back to support the worldwide Drupal community!
Why another calendar for Drupal events?
Drupal Events are already listed on g.d.o (the Drupal community hub, groups.drupal.org), but it can be a chore to find events in your local area, or at your holiday or business-trip destination.
Find Drupal events with ease!
First we aggregate the ical feed of g.d.o, then we manually enrich the events with structured, semantic data:
Location
Logo
Link
Twitter hashtag/username
Then we present the events – with different colored markers to indicate the event type – on both a map and on a chronological list. You can filter by event type, continent, and country. On the go? We built this using responsive web design, to make it easy to use on all devices, from phones to tablets to your regular old laptop!

Missing events
When we find out about an event that is not listed on g.d.o, we add it to Drupical and contact the event team and ask them to add it to the g.d.o events calendar to make sure everyone can find it (we shouldn't add it to g.d.o since the event team should be able to change and control the details of their own event).
Let us know about events missing from Drupical!
Feature roadmap
We plan to provide all the enriched event data in multiple formats (RSS, JSON, etc.) to make it possible for others to access and use the data. For example, local community websites could aggregate events in their geographical region. More planned features, tasks, and bugs to fix can be found on our TODO-list.
Backstory
It all happened in the heady, Drupally atmosphere at the Drupal Business Days Vienna 2012 ;-).
First, the name Drupical (a mashup of Drupal and tropical) came into Nico's mind along with a logo concept … hmm, "Drupal is like having holidays" … what do we do with this?
He registered the domain and sent Michael an enthusiastic email the name, slogan and logo idea.
Michael looks after the events section on the Drupal Austria website, so he's is familiar with the challenges of finding Drupal events. He answered "Great! - but let's make it a Drupal calendar! Isn't that what you meant with Drup … iCal?".
Sleeves were rolled up, elbow grease liberally applied, and here we are!
g.d.o
We do know there are some improvements for the g.d.o events page in the pipeline. You can read about it here: http://drupal.org/node/954708